Posted: November 23, 2018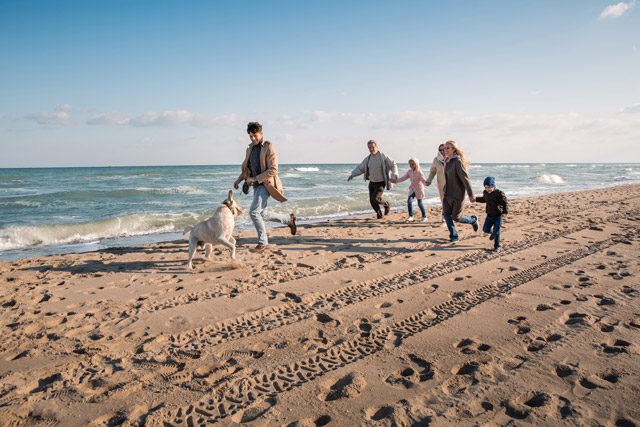 Trying to book a trip to the beach, but can't seem to find a pet-friendly hotel that will welcome your furry friend?! Well, you are in luck! The Howard Johnson® By Wyndham Oceanfront Inn is now pet-friendly!We invite you to bring the entire family along on your family vacation to Ocean City.
Pet-Friendly Things to Do
During peak season in Ocean City, dogs are not allowed on the beach. However, from October 1 to April 30, your pup has free reign to splash in the waves and roll around in the sand! During the summertime, since dogs aren't able to join you in sunbathing on the sand, there are plenty of other places to take them.
Homer Gudelsky Park, commonly known to locals and frequent visitors as Stinky Beach, is the perfect place to bring your pups for a beach day! Located south of the Rt. 50 Bridge, this hidden gem is at the end of Old Bridge Road.
Another park to take your furry friends to is the 94th St. Dog Playground. Open year-round, calling your dog's name! Register your dog(s), and enjoy the two different sections of the playground, separating dogs over and under 28 pounds. You'll have the option to purchase a one-day pass to the park or get a pass for the whole year.
Northside Park uptown is also a great place to let your dogs run free! Take them inside the baseball fields to play catch, or let them take a dip in the bay. It is often referred to as the "Doggie Park" by locals.
Along with parks throughout town, and the beach and boardwalk during the off-season, many restaurants in Ocean City have become dog-friendly. Over 40 places including Macky's Bayside Bar and Grille, Tailchasers Restaurant & Dock Bar, and Malia's Cafe, invite you to bring your pet along for family dinner. You can dine with the whole family! Many restaurants even offer pup meals.
The Howard Johnson® Pet Policies
We love the fact that our guests are able to bring their dogs with them on vacation! We want to ensure all of our policies and procedures are followed to keep all guests happy. There is a maximum of one dog per room. As long as your pup is under 50 lbs, fully trained, and kept on a leash at all times in the hotel, you are good to go!
Find our detailed Pet Policies here.
Categories: Uncategorized
Tags: pet friendly hotel, pet friendly hotel ocean city maryland